Vax Blade Slim Vac Pet Pro
VX63
.

Cleaning pet hair out of carpet or furniture can be a difficult task if you don't have the right vacuum. But with the right vacuum you can enjoy having your furry friends inside without having hair around the house. The Vax Blade Pet Pro is a lightweight cordless stick vacuum cleaner designed specifically for homes with pets. Featuring an impressive 45 minute run time and Helix technology it delivers a truly unbeatable clean.

Share
Share
.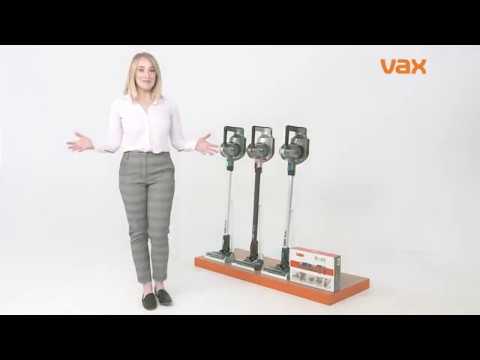 Vax Blade Cordless Handstick Vacuum 2018 – National Product Review 01:03
THE
Features & Benefits
The Vax Blade Pet Pro Cordless is perfect for stairs, pet hair removal, cars and upholstery cleaning. The innovative detachable cleaning wand is ideal to reach into those tricky areas like behind the couch or even under the car seats. Its impressive lithium battery carries a 45 minute run time that'll provide a constant high level of cleaning performance throughout so you get the entire house done in one go. Plus, its Boost Mode delivers extra suction power for picking up stubborn dirt, pet hair and for high traffic areas that need a little more attention.
The Vax Blade Pet Pro features Direct Helix technology which provides three-dimensional support inside the horizontal dirt bin to maximum performance and efficiency, delivering unbeatable cleaning power. Featuring innovative Vax SMART Control dial it offers a smarter, more efficient way of cleaning by instantly informing you of how much power you have left so you will never run out of power expectedly. With all of its features combined the Vax Blade Pet Pro Cordless is the right vacuum cleaner to solve your pet hair problems and will allow you to enjoy spending time with your furry friends inside, even while they're shedding!
Product Description
Helix Technology
Vax SMART Control
Boost Mode
Li-Ion Battery
Blue Colour
Battery Type
28V Lithium Ion
Cyclone Technology
Direct Helix Technology™
Display Type
Battery Charging Indicator
Surface Types
Hard Floors, Carpets, Furniture, Vehicles
Find Vax VX63 Near Me
Not all products displayed in all stores. Please check your local store